Software Architecture
---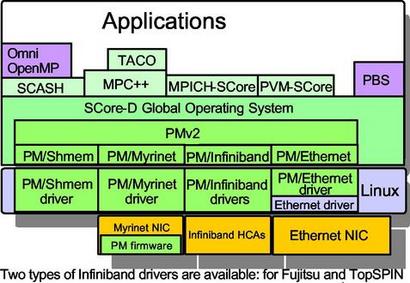 As shown in the above diagram, the SCore Cluster System Software consists of the following components: The following servers are run to maintain the system:
Cluster Database Server
All the cluster information required by the SCore Cluster System Software are maintained by the scoreboard(8) server.

Compute Host Lock Server
The Compute Host Lock Server (msgbserv(8)) provides a locking facility that prevents other users from using cluster hosts. The msgb command allows cluster users to browse the current status of a cluster. Users of parallel application programs are assumed to lock hosts via the msgbserv server. This locking management is done automatically by user programs when they are linked with the SCore runtime library.

System Information Server
The scbcast(8) server obtains system information generated by the SCore-D operating system and distributes it to clients. scbcast must be invoked before starting the SCore-D operating system and clients.
See the following sections for an introduction to the available environments:
---
---
$Id: softarch.html,v 1.3 2004/10/25 11:36:14 kameyama Exp $